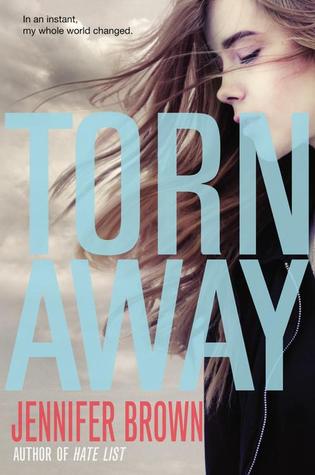 Title: Torn Away
Author: Jennifer Brown
Publisher: Little Brown Books for Young Readers

Publishing Date: May 6th 2014
Pages: 288
Genre: YA Realistic Fiction

Jersey Cameron has always loved a good storm. Watching the clouds roll in and the wind pick up. Smelling the electricity in the air. Dancing barefoot in the rain. She lives in the Midwest, after all, where the weather is sure to keep you guessing. Jersey knows what to do when the tornado sirens sound. But she never could have prepared for this.

When her town is devastated by a tornado, Jersey loses everything. As she struggles to overcome her grief, she's sent to live with relatives she hardly knows-family who might as well be strangers. In an unfamiliar place, can Jersey discover that even on the darkest of days, there are some things no tornado can destroy?

In this powerful and poignant novel, acclaimed author Jennifer Brown delivers a story of love, loss, hope, and survival.

This was my very first Jennifer Brown book and I think it was a great book start me off with this author. This book was phenomenal. So many emotions, so many crazy characters, so many wow moments. I cried, I yelled, I wanted to throw the book at times. I even laughed, not much, but there were a few moments of laughter. It was a very good "tear me down then make me feel good" book. In the end my heart was warm, my eyes were tearful, and I was smiling.

Jersey lives in Missouri, a tornado state. Tornado warnings, watches, and sirens were just a part of living in an area that was prone to tornadoes. Jersey had experienced the alarming warnings all her life but never experienced an actual tornado. The day comes where it isn't just a warning, its the real deal and its a doosey. A massive tornado sweeps through her town, her neighborhood. She was home alone. Her stepfather at work, her mother and sister at dance class. She loses everything her house, her family, and her friends. In just one day a tornado takes it all. She gets bounced around from placed to place trying to find where she belongs when all she wants her life to go back to the way it was, to go home, to no longer hurt. In the end she finds he place but to get there, it was a long hard painful journey.

So I live in Texas, we have tornadoes quite often, not enough where we have alarms and basements or shelters built for tornadoes, but only because I live in a valley. I do remember one year when a small itty bitty town a couple towns over was hit twice in one summer, completely devastating the town. It was a horrid even to watch on television and see the destruction. Even then it was hard to imagine surviving something as horrific as a tornado. This book really brought it to life for me. The writing was just amazing, the main character completely drew me in, the story was sad but hopeful. It was really good, I am really it was good.
I really loved Jersey. She was real and she had so much going on it was really hard to see any hope for at first. Nobody seemed to want her after she lost her mother and sister. She was moved away from the only home (not that it was much of a home anymore) she had ever known, away from friends she's had her entire life. Right before her senior year. She didn't even get to finish the last couple of weeks of her junior year since the school was gone. She had to go days, weeks, without knowing if all those she loved survived. Then she was sent to a home with strangers that were supposed to be family, mean drunks who didn't want her or love her. There was no end for Jersey. I felt for her. She tried so had to keep going, to keep hoping, to keep remembering, to keep surviving, but it was getting harder. She became closed up, cold, distant. I understood this but it also made me angry. Angry that people who don't deserve to be a part of a family would take even more away from her, angry because she was closing the door on getting close to anyone again, angry because when someone came into her life to love her, she was mean, cold, and unloving. It really killed me. I wanted to hug her and slap her at the same time.What I loved about Jersey, she was a smart girl and eventually she sees what's really there no matter the situation. She was definitely a survivor.
I really didn't close to any of the other characters. It was hard when really Jersey was the only steady character throughout the book. I hated most of the characters, but hated in the sense they were written so well. There were no gray areas when it came to the good ones and the bad ones. I also loved some, Jersey's grandparents in the end were wonderful. My time with them was short lived since they came in near the end, but they were good ones and I could see their hearts were open to Jersey, completely opened, and it warmed my heart.

The story really was about the journey, losing everything and then realizing everything really wasn't lost. It was about surviving, learning, fighting, forgiving, and loving. It was so so good. It was a tear jerker though. The bad tears and the good tears, sometimes there was some ugly crying in public going on. The narrator was really excellent at bringing it all to life for me and I was a hot mess, really I was. So there will be some more Jennifer Brown in my future for sure.


A++++ wish I could give it more than 5 hearts because it really was awesome.

Two-time winner of the Erma Bombeck Global Humor Award (2005 & 2006), Jennifer's weekly humor column appeared in The Kansas City Star for over four years, until she gave it up to be a full-time young adult novelist.

Jennifer's debut novel, HATE LIST (Little, Brown Books for Young Readers, 2009) received three starred reviews and was selected as an ALA Best Book for Young Adults, a VOYA "Perfect Ten," and a School Library Journal Best Book of the Year. HATE LIST also won the Michigan Library Association's Thumbs Up! Award, the Louisiana Teen Readers Choice award, the 2012 Oklahoma Sequoyah Book Award, was an honorable mention for the 2011 Arkansas Teen Book Award, is a YALSA 2012 Popular Paperback, received spots on the Texas Library Association's Taysha's high school reading list as well as the Missouri Library Association's Missouri Gateway Awards list, and has been chosen to represent the state of Missouri in the 2012 National Book Festival in Washington, DC. Jennifer's second novel, BITTER END, (Little, Brown Books for Young Readers, 2011) received starred reviews from Publishers Weekly and VOYA and is listed on the YALSA 2012 Best Fiction for Young Adults list and is a 2012 Taysha's high school reading list pick as well.

Jennifer writes and lives in the Kansas City, Missouri area, with her husband and three children.