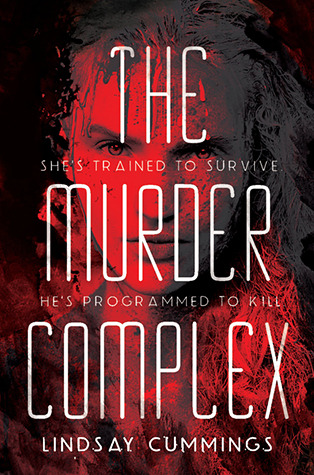 Title: The Murder Complex
Publisher: Greenwillow Books

Publishing Date:
Pages: June10th 2014
Genre: YA Sci-Fi Dystopian Thriller

An action-packed, blood-soaked, futuristic debut thriller set in a world where the murder rate is higher than the birthrate. For fans of Moira Young's Dust Lands series, La Femme Nikita, and the movie Hanna.

Meadow Woodson, a fifteen-year-old girl who has been trained by her father to fight, to kill, and to survive in any situation, lives with her family on a houseboat in Florida. The state is controlled by The Murder Complex, an organization that tracks the population with precision.

The plot starts to thicken when Meadow meets Zephyr James, who is—although he doesn't know it—one of the MC's programmed assassins. Is their meeting a coincidence? Destiny? Or part of a terrifying strategy? And will Zephyr keep Meadow from discovering the haunting truth about her family?
I was totally looking forward to this book. It sounded completely fantastical and creepy. From the summary, the title, and even the cover I was looking for a pretty sick and intense read. That is what I got. I was not disappointed in this book at all. It actually went over my expectations and I can't wait to read more from this world. I was so into this book. The characters were well developed, the story felt original, the setting was definitely right, the tone was set to creepy, and it was very fast paced and thrilling. Sci-Fi. thriller, mystery... well just a bit of everything was thrown into this book and I loved it.
Meadow Woodson lives on boat with her father, big brother, and little sister. She goes into to test for a position, a way to make money to help feed her family in a world where only the strongest survive. They can't leave the perimeter of the community so their only choice is to fight to survive. What Meadow wasn't prepared for was to be caught in a web of secrets, betrayals and danger.
Zephyr James is a ward, his parents dead, no family and no home, he is given a place to stay and food to eat for work. He helps pick up dead bodies in the street. He himself has woken up with many a dead bodies, something like 12, with blood on his hands and no memory of what happened. He only knows he must have killed.
The two meet, their worlds collide, and now its just a matter of staying alive when someone or everyone wants them dead.
I really was blown away by this book. It was entertaining, very intense, very fast paced and very original . I thought it sounded good and it did intrigue me but I really didn't expect to love this book as much as I did.
There were a few times when the pace slowed, very minimal though and there were a few things that I didn't like... as in the romance, but for the most part I loved it and I enjoyed it from cover to cover.
I'm really not sure what I liked more, the characters or the story. Together they worked well to provide me with a package deal. The story was original. There were some similarities that marked it as a dysoptian for me.... so that wasn't original, but for the most part a very well written world was created. Creepy and evil but well done. I loved the idea of the Murder Complex. Not that I would want a real one to exist or that it was a good thing, but the idea was just creepy enough to make me love it. I was sadistic, it was evil, it was sick, it was disturbing, and of course it was built on good intentions well at least on some good intentions that backfired. The story of how the murder complex came along was a bit scary and realistic enough to really push me into some hard thinking at times. So the book was thought provoking at times. Science has come a long way and there are a bunch of confused people in the world with wild ideas on how to save the world. Put the two together and its not always a good thing. I know I am rambling but if you read the book or have read the book you know what I am talking about. So back to the story. It was one of those where the line between right and wrong gets a little blurry and I like those kinds of stories.
The story was pretty dang awesome in my opinion and what made it even better was the thrills, the chases, the fighting, the suspense, and the pacing. It was pretty fantastical when it all came together. Very well written. It came together nicely in a great pace leaving no room for questions but left enough out at at time to keep me flipping through the pages.
I really liked the main characters, Meadow and Zephyr. Like I said the lines of morality really blurred in this book and it didn't stop with the story. These characters were good and evil all in one package and I hated them, loved them, understood them, empathized with them, and cursed them. I love flawed characters and these were flawed characters, both doing what needed to be done to survive and keep those they loved safe.. Well until the madness started and so many things uncovered then... well they become awesome characters and I ended the book with lots of love for them. Oh and they could so kick butt. Neither would I want to meet in a dark alley on a bad day.
The main downfall of this book was the romance. I felt it was too rushed. I felt the connection and I liked the connection but it was hard to see it as more than just a connection. No real love, no passion, not intensity to the romance. I think the romance would have been better left as a spark to set off the fire in the next book instead of going full blown in this book.
So yes I loved, it wasn't perfect but I loved it and can't wait for more.
Good story with lots of scary stuff going on, great characters that could really kick butt, and lots of thrills.
I would recommend this book to dystopian and thriller lovers.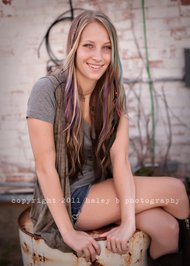 Lindsay Cummings is the 20-year-old author of THE MURDER COMPLEX, as well as its sequel, coming 2014 from Greenwillow Books/HarperCollins, and the MG trilogy THE BALANCE KEEPERS, coming Fall 2014 from Katherine Tegen Books/HarperCollins.
Lindsay deals with chronic fatigue, can't get enough of her two pesky German Shepherds, wolf cub, and two horses. She's still waiting on her letter from Hogwarts--it was probably just lost in the mail. You can follow Lindsay on twitter @lindsaycwrites