Genre Definition and Recommendation is a feature where I will define a genre and a sub-genre definition and the make some recommendations.
Science Fiction - Definition found on Wikipedia
Science Fiction- is a genre of fiction dealing with imaginary but more or less plausible (or at least non-supernatural) content such as future settings, futuristic science and technology, space travel, aliens, and paranormal abilities.
Parallel Universe
Definition found on Wikipedia
A parallel universe or alternative reality is a hypothetical or (fictional) self-contained separate reality coexisting with one's own. A specific group of parallel universes is called a "multiverse", although this term can also be used to describe the possible parallel universes that constitute reality. While the terms "parallel universe" and "alternative reality" are generally synonymous and can be used interchangeably in most cases, there is sometimes an additional connotation implied with the term "alternative reality" that implies that the reality is a variant of our own. The term "parallel universe" is more general, without any connotations implying a relationship, or lack of relationship, with our own universe. A universe where the very laws of nature are different – for example, one in which there are no Laws of Motion – would in general count as a parallel universe but not an alternative reality. The correct quantum mechanical definition of parallel universes is "universes that are separated from each other by a single quantum event."
My Recommendations:






Name of overseas edition of Between The Lives.




Above all else, though I try not to think about it, I know which life I prefer. And every night when I Cinderella myself from one life to the next a very small, but definite, piece of me dies. The hardest part is that nothing about my situation has ever changed. There is no loophole.




Until now, that is...




For as long as she can remember, Sabine has lived two lives. Every 24 hours she Shifts to her ′other′ life - a life where she is exactly the same, but absolutely everything else is different: different family, different friends, different social expectations. In one life she has a sister, in the other she does not. In one life she′s a straight-A student with the perfect boyfriend, in the other she′s considered a reckless delinquent. Nothing about her situation has ever changed, until the day when she discovers a glitch: the arm she breaks in one life is perfectly fine in the other.




With this new knowledge, Sabine begins a series of increasingly risky experiments which bring her dangerously close to the life she′s always wanted... But just what - and who - is she really risking?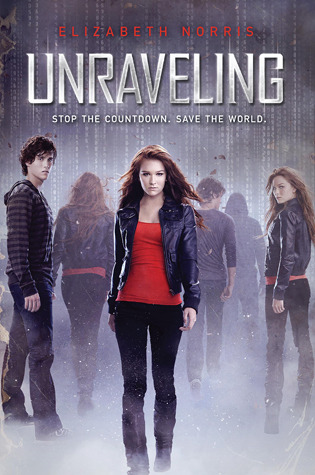 Unraveling by Elizabeth Norris





Sixteen-year-old Janelle Tenner is used to having a lot of responsibility. She balances working as a lifeguard in San Diego with an intense academic schedule. Janelle's mother is bipolar, and her dad is a workaholic FBI agent, which means Janelle also has to look out for her younger brother, Jared.




And that was before she died... and is brought back to life by Ben Michaels, a mysterious, alluring loner from her high school. When she discovers a strange clock that seems to be counting down to the earth's destruction, Janelle learns she has twenty-four days to figure out how to stop the clock and save the planet.