sentences out of our current read to peak others' curiosity

.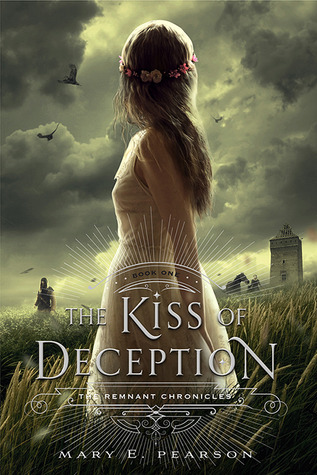 The Kiss of Deception by Mary E. Pearson



In this timeless new trilogy about love and sacrifice, a princess must find her place in a reborn world.

In a society steeped in tradition, Princess Lia's life follows a preordained course. As First Daughter, she is expected to have the revered gift of sight—but she doesn't—and she knows her parents are perpetrating a sham when they arrange her marriage to secure an alliance with a neighboring kingdom—to a prince she has never met.

On the morning of her wedding, Lia flees to a distant village. She settles into a new life, hopeful when two mysterious and handsome strangers arrive—and unaware that one is the jilted prince and the other an assassin sent to kill her. Deception abounds, and Lia finds herself on the brink of unlocking perilous secrets—even as she finds herself falling in love.
Top Ten is an original feature/weekly meme created here at
My Top Ten Cover Musts...
1. Large and Clean title
2. Bold and Bright Colors
3. Simple not overdone
4. I like draw or illustrated covers.
5. I am not much with people on the covers
5. I do like people on the cover if they are a girl in a fancy dress
6. I want the cover to tie into the story.
7. I am not much for scenery on the cover ... IE... deserts, beaches, forests...
8. I do like huge flowers on covers... ones that take up the entire cover.
9. I do like old looking, vintage, or ancient looking covers.
10. I can't stand movie tie in covers. Leave the books alone in their original forms......
11. One more for good measure- I hate it when publishers change covers in the middle of the series... really can't we wait until the series is over... all books are out in paperback.. then change them. Quit taking all my money so my books will match on my shelves.