Delightful Discoveries are books that I have discovered recently... old, new, just released... from blogs, Goodreads, libraries, friends, or bookstores.

Sixteen-year-old Jansin Nordqvist is on the verge of graduating from the black ops factory known as the Academy. She's smart and deadly, and knows three things with absolute certainty:1. When the world flooded and civilization retreated deep underground, there was no one left on the surface.2. The only species to thrive there are the toads, a primate/amphibian hybrid with a serious mean streak.3. There's no place on Earth where you can hide from the hypercanes, continent-sized storms that have raged for decades.Jansin has been lied to. On all counts.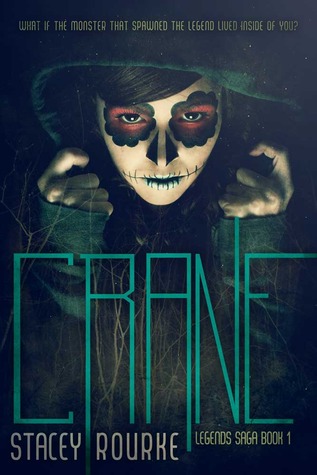 Crane by Stacey Rourke









The Horseman is unending,

his presence shan't lessen.

If you break the curse,

you become the legend.




Washington Irving and Rip Van Winkle had no choice but to cover up the deadly truth behind Ichabod Crane's disappearance. Centuries later, a Crane returns to Sleepy Hollow awakening macabre secrets once believed to be buried deep.




What if the monster that spawned the legend lived within you?




Now, Ireland Crane, reeling from a break-up and seeking a fresh start, must rely on the newly awakened Rip Van Winkle to discover the key to channeling the darkness swirling within her. Bodies are piling high and Ireland is the only one that can save Sleepy Hollow by embracing her own damning curse.




But is anyone truly safe when the Horseman rides?

Sixteen-year-old physics nerd Aysel is obsessed with plotting her own death. With a mother who seems scared of her, classmates who whisper behind her back, and a father who has made her the town pariah, Aysel's ready to turn her potential energy into nothingness.

There's only one problem: she's not sure she has the courage to do it alone. But once she discovers the website Smooth Passages and its section called Suicide Partners, Aysel's convinced she's found her solution. Better yet, a boy with the username FrozenRobot (aka Roman), who's haunted by a family tragedy, is looking for a partner.

But as their suicide pact starts to become more concrete, Aysel begins to question whether she really wants to go through with it. Ultimately, Aysel must choose between wanting to die or trying to convince Roman to live so they can discover the potential of their energy together. Except that Roman may not be so easy to convince.

This is a gorgeously written and compulsively readable debut novel about the transformative power of love and acceptance.



We Should Hang Out Sometime by Josh Sundquist



Bound together by the devastating consequences of a terrorist attack on a London market, teenagers Charlotte (Charlie) and Nat appear at first to have much in common. But, as Charlie gets closer to Nat and his family, she begins to wonder if perhaps he knows more about the attack than he has let on. Split Second is an action-packed thriller that shifts between the perspectives of its two main characters as their courage and their loyalties are tested to the limit.




A jinni. A princess. And the wish that changes everything. . . .




Najwa is a jinni, training to be a spy in the war against the humans. Zayele is a human on her way to marry a prince of Baghdad—which she'll do anything to avoid. So she captures Najwa and makes a wish. With a rush of smoke and fire, they fall apart and re-form—as each other. A jinni and a human, trading lives. Both girls must play their parts among enemies who would kill them if the deception were ever discovered—enemies including the young men Najwa and Zayele are just discovering they might love.