Waiting On Wednesday is a weekly event, hosted by Breaking the Spine, that spotlights upcoming releases that we're eagerly anticipating.
Jenn's Pick- I Can't wait for: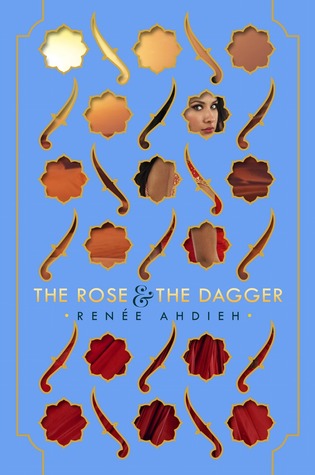 I am surrounded on all sides by a desert. A guest, in a prison of sand and sun. My family is here. And I do not know whom I can trust.




In a land on the brink of war, Shahrzad has been torn from the love of her husband Khalid, the Caliph of Khorasan. She once believed him a monster, but his secrets revealed a man tormented by guilt and a powerful curse—one that might keep them apart forever. Reunited with her family, who have taken refuge with enemies of Khalid, and Tariq, her childhood sweetheart, she should be happy. But Tariq now commands forces set on destroying Khalid's empire. Shahrzad is almost a prisoner caught between loyalties to people she loves. But she refuses to be a pawn and devises a plan.




While her father, Jahandar, continues to play with magical forces he doesn't yet understand, Shahrzad tries to uncover powers that may lie dormant within her. With the help of a tattered old carpet and a tempestuous but sage young man, Shahrzad will attempt to break the curse and reunite with her one true love.
So I am salivating over this book. I loved the first. One of my top 10 reads of all time for sure. It grabbed my soul, trapped my heart, and left me lonely for more. So yes I need this book in my life ASAP!!!
Ash's Pick- I Can't wait for:
Henry the Gaoler by A.W. Exley


Imagine if Rapunzel's parents were Edwardian preppers
Hazel's parents saw the 1912 sinking of the Titanic as a portent of doom and locked their daughter away. Isolated and alone, each birthday she wishes to be free, whatever the risk. If only her childhood friend Henry would return and breach the high walls.
On the frontlines of the Great War, Henry kept a token of happier times – a worn photograph of a young girl with long blonde plaits. He returns from war damaged and vowing to do one brave thing to make up for his cowardice - release Hazel from her prison. But is it safe with the pandemic and its horrific aftermath?
How can Henry reconcile protecting Hazel with setting her free? Or perhaps the sheltered young woman will teach the soldier a lesson about life, and liberate him from a tower of his own construction.