Delightful Discoveries are books that I have discovered recently... old, new, just released... from blogs, Goodreads, libraries, friends, or bookstores.




THE YEARBOOK by Carol Masciola

WHAT'S THE YEARBOOK ABOUT?
Misfit teen Lola Lundy falls asleep in a storage room in her high school library and wakes up to find herself 80 years in the past. The Fall Frolic dance is going full blast in the gym, and there she makes an instant connection with the brainy and provocative Peter Hemmings, class of '24. His face is familiar, and she realizes she's seen his senior portrait in a ragged old yearbook in the storage room. By the end of the dance, Lola begins to see a way out of her disastrous Twenty First Century life: She'll make a new future for herself in the past. But major mental illness lies in Lola's family background. Has she slipped through a crack in time, or into an elaborate, romantic hallucination based on the contents of an old yearbook?

Rebel Bully Geek Pariah by Erin Jade Lange



"The Breakfast Club" gets a modern, high-stakes reboot in this story of four very different teens and a night that changes them forever.




The Rebel: Once popular, Andi is now a dreadlocked, tattooed wild child.

The Bully: York torments everyone who crosses his path, especially his younger brother.

The Geek: Tired of being bullied, Boston is obsessed with getting into an Ivy League college.

The Pariah: Choosing to be invisible has always worked for Sam . . . until tonight.




When Andi, York, Boston, and Sam find themselves hiding in the woods after a party gets busted by the cops, they hop into the nearest car they see and take off—the first decision of many in a night that will change their lives forever. By the light of day, these four would never be caught dead together, but when their getaway takes a dangerously unpredictable turn, sticking together could be the only way to survive.




With cinematic storytelling and compelling emotional depth, critically acclaimed author Erin Jade Lange takes readers on literary thrill ride.

From the acclaimed author of the Mercy series and The Astrologer's Daughter.

Since her parents died in a freak motorbike accident, Sophie Teague's life has fallen apart.

But she's just enrolled at a new high school, hoping for a fresh start.

That's until Eve, a beautiful ghost in black, starts making terrifying nightly appearances, wanting Sophie to be her hands, eyes and go-to girl.

There are loose ends that Eve needs Sophie to tie up. But dealing with the dead might just involve the greatest sacrifice of all.

Dark, thrilling and unrelentingly eerie, Afterlight will take you deep into the heart of a dangerous love story, revealing the otherworldly—and deadly—pull of past wrongs that only the living can put right.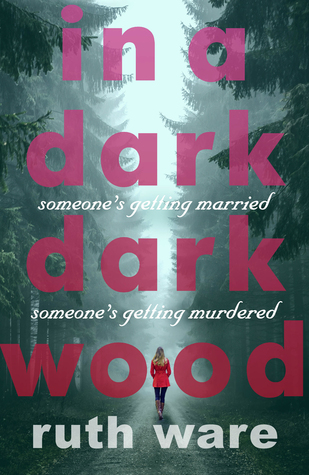 In A Dark Dark Wood by Ruth Ware





Nora hasn't seen Clare for ten years. Not since Nora walked out of school one day and never went back.




In a dark, dark wood there was a dark, dark house




Until, out of the blue, an invitation to Clare's bachelorette party arrives. Is this a chance for Nora to finally put her past behind her?




And in the dark, dark house there was a dark, dark room




But something goes wrong. Very wrong.




And in the dark, dark room…




Some things can't stay secret for ever.













Vika Andreyeva can summon the snow and turn ash into gold. Nikolai Karimov can see through walls and conjure bridges out of thin air. They are enchanters—the only two in Russia—and with the Ottoman Empire and the Kazakhs threatening, the Tsar needs a powerful enchanter by his side.




And so he initiates the Crown's Game, an ancient duel of magical skill—the greatest test an enchanter will ever know. The victor becomes the Imperial Enchanter and the Tsar's most respected adviser. The defeated is sentenced to death.




Raised on tiny Ovchinin Island her whole life, Vika is eager for the chance to show off her talent in the grand capital of Saint Petersburg. But can she kill another enchanter—even when his magic calls to her like nothing else ever has?




For Nikolai, an orphan, the Crown's Game is the chance of a lifetime. But his deadly opponent is a force to be reckoned with—beautiful, whip smart, imaginative—and he can't stop thinking about her.




And when Pasha, Nikolai's best friend and heir to the throne, also starts to fall for the mysterious enchantress, Nikolai must defeat the girl they both love . . . or be killed himself.




As long-buried secrets emerge, threatening the future of the empire, it becomes dangerously clear . . . the Crown's Game is not one to lose.