Delightful Discoveries are books that I have discovered recently... old, new, just released... from blogs, Goodreads, libraries, friends, or bookstores.

Meet Magnolia.

Her father's dead, her boyfriend's ditched her to commit himself more fully to surfing, and her mother's depressed because she can't get cast on The Real Housewives of Orange County. All Magnolia wants is to reinvent herself.

Meet Ford.

Half his family is in jail, the other half probably should be, he shoplifted his way into a job at a record store, and his brother pawned his 1953 Telecaster for a quick buck. All Ford wants is to reinvent himself.

Ford, meet Magnolia.

When the two teens are cast in Spotlight, a reality TV singing competition, both see it as their chance to start anew. With each episode, as they live together in a Hollywood Hills mansion and sing their hearts out, Ford and Magnolia fall in love. But how genuine can that love be when a television audience is watching their every move—and when their pasts are catching up them so much faster than they can run?

Perfect for fans of Pitch Perfect, and Nick and Norah's Infinite Playlist, Mindy Kaling, and Meg Cabot, Everybody Knows Your Name is a romantic comedy that delivers an unforgettable cast of characters (and way more laughs than any episode of American Idol).
Silent Alarm by Jennifer Banash


Alys's whole world was comprised of the history project that was due, her upcoming violin audition, being held tightly in the arms of her boyfriend, Ben, and laughing with her best friend, Delilah. At least it was—until she found herself on the wrong end of a shotgun in the school library. Her suburban high school had become one of those places you hear about on the news—a place where some disaffected youth decided to end it all and take as many of his teachers and classmates with him as he could. Except, in this story, that youth was Alys's own brother, Luke. He killed fifteen others and himself, but spared her—though she'll never know why.




Alys's downward spiral begins instantly, and there seems to be no bottom. A heartbreaking and beautifully told story.




Would you send a villain to do a hero's job? An exciting new twisted fairy tale series from award-winning author Jen Calonita.

Full of regret, Cinderella's wicked stepmother, Flora, has founded the Fairy Tale Reform School with the mission of turning the wicked and criminally mischievous into upstanding members of Enchantasia.

Impish, sassy 12-year-old Gilly has a history of petty theft and she's not too sorry about it. When she lifts a hair clip, she gets tossed in reform school-for at least three months. But when she meets fellow students Jax and Kayla, she learns there's more to this school than its sweet mission. There's a battle brewing and she starts to wonder: can a villain really change?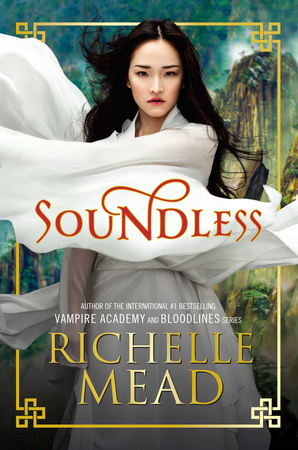 Soundless by Richelle Mead



For as long as Fei can remember, there has been no sound in her village, where rocky terrain and frequent avalanches prevent residents from self-sustaining. Fei and her people are at the mercy of a zipline that carries food up the treacherous cliffs from Beiguo, a mysterious faraway kingdom.

When villagers begin to lose their sight, deliveries from the zipline shrink and many go hungry. Fei's home, the people she loves, and her entire existence is plunged into crisis, under threat of darkness and starvation.

But soon Fei is awoken in the night by a searing noise, and sound becomes her weapon.

Richelle Mead takes readers on a triumphant journey from the peak of Fei's jagged mountain village to the valley of Beiugo, where a startling truth and an unlikely romance will change her life forever...



Dave and Julia are best friends. On the brink of high school, they made a list of cliches they would never do. Now in their senior year, Dave and Julia decide to try every Never on the list. As they break out of their comfort zone and have many adventures- both together and apart- they learn a lot more about who they are and what their true feelings are for one another.