Delightful Discoveries are books that I have discovered recently... old, new, just released... from blogs, Goodreads, libraries, friends, or bookstores.


Bad girls burn hot…

Red is the color of Kia Alcott's hair.
It's her temper, which blazes hot and always gets Kia into way too much trouble.
And it's the color of fire. Fires that Kia can start…just by thinking about them.

When her latest "episode" gets her kicked out of school, Kia is shipped off to her grandmother, who works for the wealthy Blackwoods. It's an estate shrouded in secrets, surrounded by rules, and presided over by a family that is far from normal…including the gorgeous and insolent Ethan Blackwood.

Ethan knows far more about the dangers of the forest surrounding the estate than Kia can ever imagine. For this forest has teeth, and Ethan is charged with protecting the outside world from its vicious mysteries.

But inside, even the most vibrant shade of red doesn't stand a chance against the dark secrets of the Blackwood family…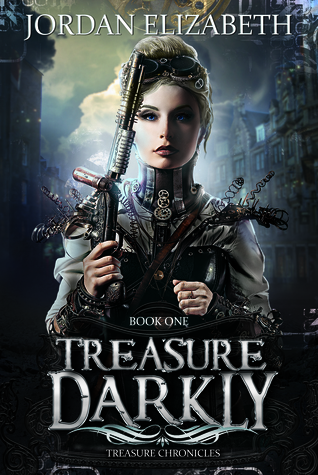 Treasure Darkly by Jordan Elizabeth


Seventeen-year-old Clark Treasure assumes the drink he stole off the captain is absinthe…until the chemicals in the liquid give him the ability to awaken the dead. A great invention for creating perfect soldiers, yes, but Clark wants to live as a miner, not a slave to the army—or the deceased. On the run, Clark turns to his estranged tycoon father for help. The Treasures welcome Clark with open arms, so he jumps at the chance to help them protect their ranch against Senator Horan, a man who hates anyone more powerful than he.




And he is not alone. His new-found sister, Amethyst, thinks that's rather dashing, until Horan kidnaps her, and all she gets is a bullet through her heart. When Clark brings her back to life, she realizes he's more than just street-smart - and he's not really a Treasure. Amethyst's boring summer at home has turned into an adventure on the run, chock full of intrigue, danger, love, and a mysterious boy named Clark.







Self-proclaimed fat girl Willowdean Dickson (dubbed "Dumplin'" by her former beauty queen mom) has always been at home in her own skin. Her thoughts on having the ultimate bikini body? Put a bikini on your body. With her all-American beauty best friend, Ellen, by her side, things have always worked . . . until Will takes a job at Harpy's, the local fast-food joint. There she meets Private School Bo, a hot former jock. Will isn't surprised to find herself attracted to Bo. But she is surprised when he seems to like her back.

Instead of finding new heights of self-assurance in her relationship with Bo, Will starts to doubt herself. So she sets out to take back her confidence by doing the most horrifying thing she can imagine: entering the Miss Clover City beauty pageant—along with several other unlikely candidates—to show the world that she deserves to be up there as much as any twiggy girl does. Along the way, she'll shock the hell out of Clover City—and maybe herself most of all.

With starry Texas nights, red candy suckers, Dolly Parton songs, and a wildly unforgettable heroine— Dumplin' is guaranteed to steal your heart.
The Last Good Day of the Year by Jessica Warman



A new powerful thriller from the globally-embraced author ofBetween.

Ten years ago, in the early hours of New Year's Day, seven-year-old Samantha and her next door neighbor, Remy, watched as a man broke into Sam's home and took her younger sister, Turtle, from her sleeping bag. Remy and Sam, too afraid to intervene at the time, later identified the man as Sam's sister Gretchen's much older ex-boyfriend, Steven, who was sent to prison for Turtle's murder.

Now, Sam's shattered family is returning to her childhood home in an effort to heal. As long-buried memories begin to surface, Sam wonders if she and Remy accurately registered everything they saw. The more they re-examine the events of that fateful night, the more questions they discover about what really happened to Turtle.

Master storyteller Jessica Warman keeps readers guessing in this arresting page-turner.



This is the story of Billy Kinsey, heir to a lottery fortune, part genius, part philosopher and social critic, full time insomniac and closeted rock drummer. Billy has decided that the best way to deal with an absurd world is to stay away from it. Do not volunteer. Do not join in. Billy will be the first to tell you it doesn't always work— not when your twin sister, Dorie, has died, not when your unhappy parents are at war with one another, not when frazzled soccer moms in two ton SUVs are more dangerous than atom bombs, and not when your guidance counselor keeps asking why you haven't applied to college.
 
Billy's life changes when two people enter his life. Twom Twomey is a charismatic renegade who believes that truly living means going a little outlaw. Twom and Billy become one another's mutual benefactor and friend. At the same time, Billy is reintroduced to Gretchen Quinn, an old and adored friend of Dorie's. It is Gretchen who suggests to Billy that the world can be transformed by creative acts of the soul. 

With Twom, Billy visits the dark side. And with Gretchen, Billy experiences possibilities.Billy knows that one path is leading him toward disaster and the other toward happiness. The problem is—Billy doesn't trust happiness. It's the age he's at. The tragic age

.