Waiting On Wednesday is a weekly event, hosted by Breaking the Spine, that spotlights upcoming releases that we're eagerly anticipating.
Jenn's Pick :I Can't wait for: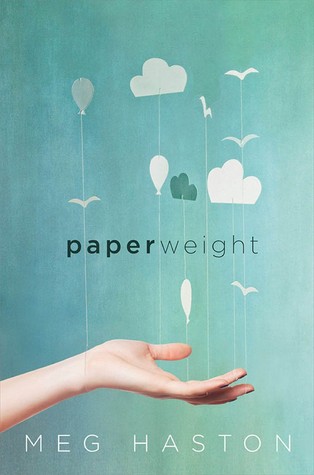 Paperweight by Meg Haston

July 7th 2015






Seventeen-year-old Stevie is trapped. In her life. In her body. And now in an eating-disorder treatment center on the dusty outskirts of the New Mexico desert.




Life in the center is regimented and intrusive, a nightmare come true. Nurses and therapists watch Stevie at mealtime, accompany her to the bathroom, and challenge her to eat the foods she's worked so hard to avoid.




Her dad has signed her up for sixty days of treatment. But what no one knows is that Stevie doesn't plan to stay that long. There are only twenty-seven days until the anniversary of her brother Josh's death—the death she caused. And if Stevie gets her way, there are only twenty-seven days until she too will end her life.




In this emotionally haunting and beautifully written young adult debut, Meg Haston delves into the devastating impact of trauma and loss, while posing the question: Why are some consumed by their illness while others embark on a path toward recovery?
I have read Meg Haston previously and loved her book. I think I will like this one too. Sounds very emotional and just intense.




Debut author Dawn Kurtagich is dead on in this terrifying psychological thriller!




Over two decades have passed since the fire at Elmbridge High, an inferno that took the lives of three teenagers. Not much was known about the events leading up to the tragedy - only that one student, Carly Johnson, vanished without a trace...




...until a diary is found hidden in the ruins.




But the diary, badly scorched, does not belong to Carly Johnson. It belongs to Kaitlyn Johnson, a girl who shouldn't exist Who was Kaitlyn? Why did she come out only at night? What is her connection to Carly?




The case has been reopened. Police records are being reexamined: psychiatric reports, video footage, text messages, e-mails. And the diary.




The diary that paints a much more sinister version of events than was ever made publicly known.
This book looks very creepy, and of course that's all I'm into right now. I found this and got super excited to read it. Too bad I have to wait until September.