Its been a while since I have been on. I am sorry about that. There is quite a long story but it can be shortened to a series of unfortunate events that included but not limited too loss of internet, major hours at work, and of course the hideous fall cold. So I am still getting over a cold but I am going to try to get back to my blog when I can.
Waiting On Wednesday is a weekly event, hosted by Breaking the Spine, that spotlights upcoming releases that we're eagerly anticipating.
I Can't wait for: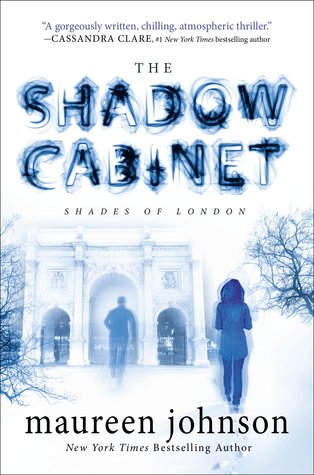 The Shadow Cabinet (Shades of London #3) by Maureen Johns






The thrilling third installment to the Edgar-nominated, bestselling series.




Rory and her friends are reeling from a series of sudden and tragic events. While racked with grief, Rory tries to determine if she acted in time to save a member of the squad. If she did, how do you find a ghost? Also, Rory's classmate Charlotte has been kidnapped by Jane and her nefarious organization. Evidence is uncovered of a forty-year-old cult, ten missing teenagers, and a likely mass murder. Everything indicates that Charlotte's in danger, and it seems that something much bigger and much more terrible is coming.




Time is running out as Rory fights to find her friends and the ghost squad struggles to stop Jane from unleashing her spectral nightmare on the entire city. In the process, they'll discover the existence of an organization that underpins London itself—and Rory will learn that someone she trusts has been keeping a tremendous secret.

I absolutely loved the first 2 of this series and can't wait to read more. This is a great series about murder, ghosts, love , and growing up. Its a little bit of realistic fiction, contemporary romance, supernatural, and a mystery thriller. Love it. All of my favorite things.