Ever since Finn was born, and even before then, we would read to him. We wanted to show him reading from an early age. Now he loves us to read the same books, over, and over, and over. But it is the sweetest thing, when he likes to pick out a book and climb into our laps.
What Finn Reads....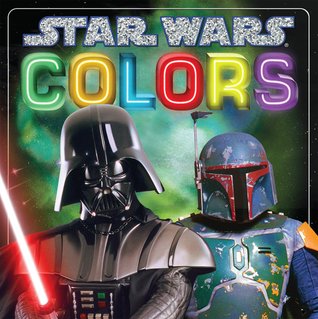 Star Wars: Colors by Scholastic Inc.
Following on the success of Star Wars: ABC and Star Wars: 1, 2, 3, we are offering the perfect companion--Star Wars: Colors!
Just like STAR WARS: 1, 2, 3 and STAR WARS: ABC, this novelty board book is aimed at fans both young and old. Each vibrant color is illustrated using Star Wars's most popular heroes, villains, vehicles, droids, and aliens.
What Finn Thinks...
Finn absolutely loves this book. We originally got him Star Wars ABC and he read that over and over and over. So when we saw Star Wars Colors at Barnes and Noble we just had to get it. We were hoping that maybe if we got this book he would talk and say the colors. No such luck. However, when you are on a page and it's red, and you ask him if it's orange, he will shake his head. Once you ask if it's red he gets really excited. He definitely knows his colors. He always tells us to read it again, again, again, and again. I even have to hide the book sometimes....
What I really like about this book, aside from it being Star Wars, and we all know how much of a Star Wars nerd I am... It teaches not only all of the colors of the rainbow, but also black, white, brown, silver, and gold. Most color books don't teach that. I really also love how he knows a lot of Star Wars characters from these books. Just two years old and he knows not only who Yoda, Darth Vader, and R2 is? But also Luke, Han, Chewbacca, Leia.. And a bunch of other minor characters that most people don't know, let alone a toddler. The book is very bright and colorful (I would hope it's colorful..) But it keeps him wanting to look again and again, really teaching him his colors.
Other books like this: